The Harvard Club of Central Florida
Join us For an Unforgettable Evening of Dance and Celebration!
Experience the Magic of Dance!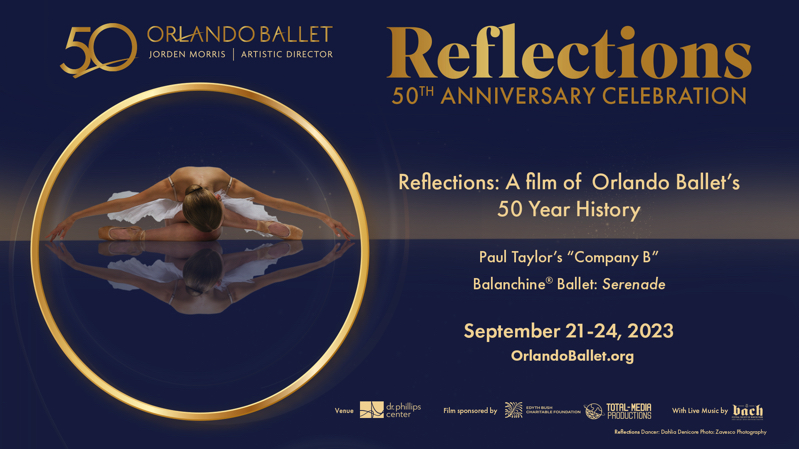 Orlando Ballet is celebrating its 50th Anniversary! They have created Reflections: 50thAnniversary Celebration, a special performance featuring two timeless dance masterpieces that promise to captivate your heart and soul as well as the premiere of a documentary film showcasing their 50-year journey as an organization.
As a special treat for the club, we have been invited to an exclusive VIP reception before the performance, where you'll have the chance to mingle with the artistic leadership who brings these masterpieces to life.
Event Details
Date: Saturday, September 23, 2023
Time: VIP Reception 6:00 PM - 7:00 PM; Performance 7:30 PM - 9:00 PM
Location: Dr Phillips Center - Steinmetz Hall
VIP Reception: 6:00 - 7:00 PM
Note: The code is eligible for all performances. If you cannot join the group on Saturday night, you are still welcome to purchase tickets and receive an invitation for a VIP Pre-Show Experience based on your preferred performance date and time.
Questions?
Please contact the Club Administrator, Tricia Wansor, at HarvardClubCF@gmail.com or 954-914-3148.
Featured Performances:
Paul Taylor's "Company B"




An Energetic and Poignant Tribute
Witness the powerful choreography of Paul Taylor as "Company B" takes the stage. With its dynamic fusion of dance and music from the WWII era, this performance pays tribute to the resilience of the human spirit.
Balanchine® Ballet: Serenade


A Graceful Symphony in Motion
Experience the elegance and grace of Balanchine as Orlando Ballet presents Serenade. This ethereal masterpiece will transport you to a world of pure emotion, set to Tchaikovsky's enchanting music performed live by the Bach Festival Society of Winter Park.



Don't miss this once-in-a-lifetime celebration of dance and artistry!
Secure your tickets now and be a part of Reflections: 50th Anniversary Celebration. It's an evening you'll treasure forever.