Welcome Home for the Holidays Party




featuring


Harvard Din & Tonics
HARVARD'S PREMIER JAZZ A CAPPELLA GROUP

Sunday, January 8th, 2023
2:00 PM - 5:00 PM

Bay View Reserve Events Room
7550 Hinson St | Orlando | 32819
You must RSVP to be placed on the guest list.
The tradition continues!
The Annual Welcome Home party has been on the HCCF Calendar longer than any other!
Join us as we celebrate the New Year with all of our "Harvard Family".
The event is open to current students, this year's applicants, HCCF interviewers, and all local alums!

Every year we welcome current Harvard undergrads and graduate students home from Cambridge,
invite local applicants to hear about student life at Harvard, and mingle with our fellow interviewers and
other area alumni.
A buffet of lite bites and refreshments will be served!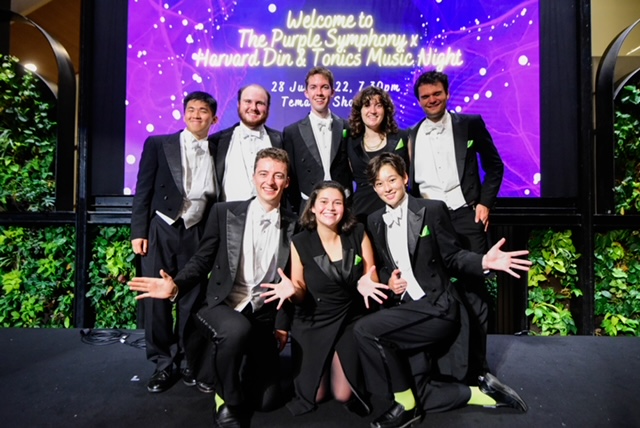 The Harvard Din & Tonics are Harvard University's signature jazz a cappella group, known for their rich tradition of musical and performance excellence. Their repertoire centers around American jazz standards, but also frequently includes pop, disco, and folk music. These world-touring Harvard students — who perform in white ties and tails, garnished with lime green socks — have an enviable reputation for their impeccable musicality, snappy choreography, and hilarious antics.
REGISTER HERE
All sales are final
Harvard Club of Central Florida Members: $30.00 per person
Paid Club Members may bring (1) guest at the member rate.
Non-Members and Guests: $40.00 per person
Consider joining! The Club's membership dues are a modest $75 per year!

Current Harvard Students, New Admits, Applicants AND their families are FREE!
Please contact the Club Administrator Tricia Wansor to RSVP @ HarvardClubCF@gmail.com or 954-914-3148.


Questions?
Need help purchasing your tickets?
Please contact Tricia Wansor, Club Administrator at 954-914-3148 or HarvardClubCF@gmail.com