Harvard Glee Club Performance
America's Oldest Collegiate Glee Club is returning to Central Florida!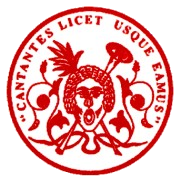 In March 2022, the Harvard Glee Club will embark on a two-week spring session tour to Florida. This marks the first time the Glee Club has visited Florida since 2015, and the first tour for the chorus since 2019 due to the COVID pandemic.

The Harvard Club of Central Florida (HCCF) has arranged for the Glee Club to sing at Knowles Chapel on the campus of Rollins College in a FREE CONCERT on the night of March 18th, 2022. The concert will be available for both Club Members and the community.

Seating is limited and is open to the community. Register TODAY to ensure you get a seat!

The Glee Club is thrilled to have the opportunity to connect with audiences and collaborators on this tour. In typical fashion, the Glee Club will present performances of a diverse array of repertoire representing the rich tradition of tenor-bass choral music and newly-commissioned works.
Friday, March 18
7:00 PM

Rollins College - Knowles Memorial Chapel
1000 Holt Ave. - 2738
Winter Park, FL 32789
REGISTER HERE
This is a free event, but you must register in advance to ensure proper seating is available.

The Glee Club was the inaugural concert in the Pugh Theater in its first season in 2015, which received a glowing review from the Orlando Sentinel and was selected the "Biggest Crowd-Pleaser" by Orlando Magazine for the Center's inaugural season.

The Harvard Glee Club, one of America's oldest collegiate choruses, is a tenor-bass choral ensemble founded at Harvard University in 1858. Guided by the four cardinal virtues of glee, good humor, unity, and joy, the Glee Club aims to cultivate and sustain the art of tenor-bass choral music across centuries of tradition. A student-run and -managed 501(c)(3) non-profit organization, the Glee Club provides members opportunities for leadership and arts management including planning tours, organizing concerts with collaborating universities, and marketing performances. While traditionally drawing on repertoire from the collegiate, folk, and sacred choral traditions of Europe and North America, the Glee Club has also commissioned contemporary composers representing a broad array of experiences and styles.

Dr. Andrew Clark returns as the conductor of the Harvard Glee Club. Dr. Clark is the Director of Choral Activities and Senior Lecturer on Music at Harvard University. He has collaborated with the National Symphony, the Pittsburgh and New Haven Symphonies, the Boston Pops, the Handel and Haydn Society, the Rhode Island Philharmonic, the Boston Philharmonic, the Boston Modern Orchestra Project, the Trinity Wall Street Choir, the Washington Chorus, Stephen Sondheim, Ben Folds, and the late Dave Brubeck, among others.

Questions?
Contact the Club Administrator: harvardclubcf@gmail.com or 954-914-3148


"Thank you" to our Sponsors


Individual Sponsors
Pat & O'Ann Christiansen
David & Judy Albertson
Corporate Sponsors