Distinguished Speaker Series - Dr Gautam Mukunda - "High Impact Leadership"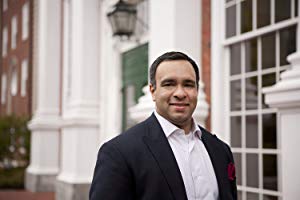 Do individual leaders make history or are they just part of the historical tide created by much larger forces? Where do the best and worst leaders come from and what explains how and why they come to power?
Harvard Kennedy School Research Fellow and former Harvard Business School Professor Gautam Mukunda
will discuss the pros/cons of "Extreme Leaders" and the inherent dangers to be wary of. He'll use examples from politics, business, and science to explain his revolutionary theory that explains how organizations of all types really choose leaders, when they are likely to get one who will have a huge effect on them, for better or worse. He will show how to apply these theories to both picking better leaders and to increasing your own odds of success as one
.
An accomplished academic, Mukunda is a member of both the Council on Foreign Relations, and the Massachusetts Institute of Technology's (MIT) Security Studies Program and Program on Emerging Technologies. He is a Paul & Daisy Soros New American Fellow, an NSF IGERT Fellow and a Next Generation Fellow of The American Assembly. He is a Principal Investigator on the National Science Foundation's Synthetic Biology Engineering Research Center, a member of the Council on Foreign Relations and The Chief of Naval Operation's Executive Advisory Panel, and a Jeopardy Champion. Formerly, he was an assistant professor of business administration in the Organizational Behavior Unit of Harvard Business School and a Distinguished Visiting Professor for the Schwarzman Scholarship.


Join us at the exclusive Country Club of Orlando on February 28 at 5:30PM for a seated three-course dinner and cash bar. Complimentary Valet! Tickets are $55 for Members and their guests, and $59 for Non Members.

When:
5:30PM - 8:00PM Thu 28 Feb 2019, Eastern timezone

Where:
The Country Club of Orlando
1601 Country Club Dr
Orlando, FL 32804 US
[ Get Directions ]
Look Who's Coming:
Pamela Fisher
Eddy Dominguez
Harvard Club of CFL
Holly Dominguez
Harvard Club of CFL
Margaret Lezcano
UBS
Dr. Rick Hartker
Brad Rex
eHome Counseling
Nancy Rex
eHome Counseling
Larry Kahn
HCCF
Lee Nimkoff
Brio Properties
Lou Nimkoff
Brio Properties
Amy Goodblatt
Goodblatt-Leo P.A.
David Johnson
Anne Marie Kearney
Charo Uceda
UCEDA SCHOOL
Gina Carr
Gina Carr International
Terry Brock
Professional Speaker
Vanaja Ragavan
Aviana Molecular Technologies, LLC
Taimur Ahmed
Candidate for Juris Doctor
Bryan Stewart
Ameriprise
Jerome Madigan
Marta Madigan
Vanaja Ragavan
Kenneth Duarte
Deepa Fernandes Prabhu
MedAnter Inc
Ginnette Brown
Resource Employment Solutions
Kim Lopdrup
Red Lobster
Brian Haas
Keiron Hylton
Shan Atkins
Gautam Mukunda
Elizabeth Presson
Amy Logan
Amma Ahmed
Robert Vinson
Clarence Lam
FAMU Law
... a total of 37 guests.
Note: to opt out from this list please sign in, go to My Account and change your preferences under My RSVPs.
"Indispensable: When Leaders Really Matter " by Gautam Mukunda
Will your next leader be insignificant or indispensable?
The importance of leadership and the impact of individual leaders has long been the subject of debate. Are they made by history, or do they make it?
Get the Book
In Indispensable, Harvard Business School professor Gautam Mukunda offers an enticingly fresh look at how and when individual leaders really can make a difference. By identifying and analyzing the hidden patterns of their careers, and by exploring the systems that place these leaders in positions of power, Indispensable sheds new light on how we may be able to identify the best leaders and what lessons we can learn, from both the process and the result.
Get the Book
Profiling a mix of historic and modern figures—from Thomas Jefferson and Abraham Lincoln to Winston Churchill and Judah Folkman—and telling the stories of how they came to power and how they made the most important decisions of their lives, Indispensable reveals how, when, and where a single individual in the right place at the right time can save or destroy the organization they lead, and even change the course of history.
Indispensable will also help you understand this new model so you can use it in your own life—whether you're a citizen casting a ballot, an executive choosing your next CEO, or a leader trying to make your mark.
Get the Book