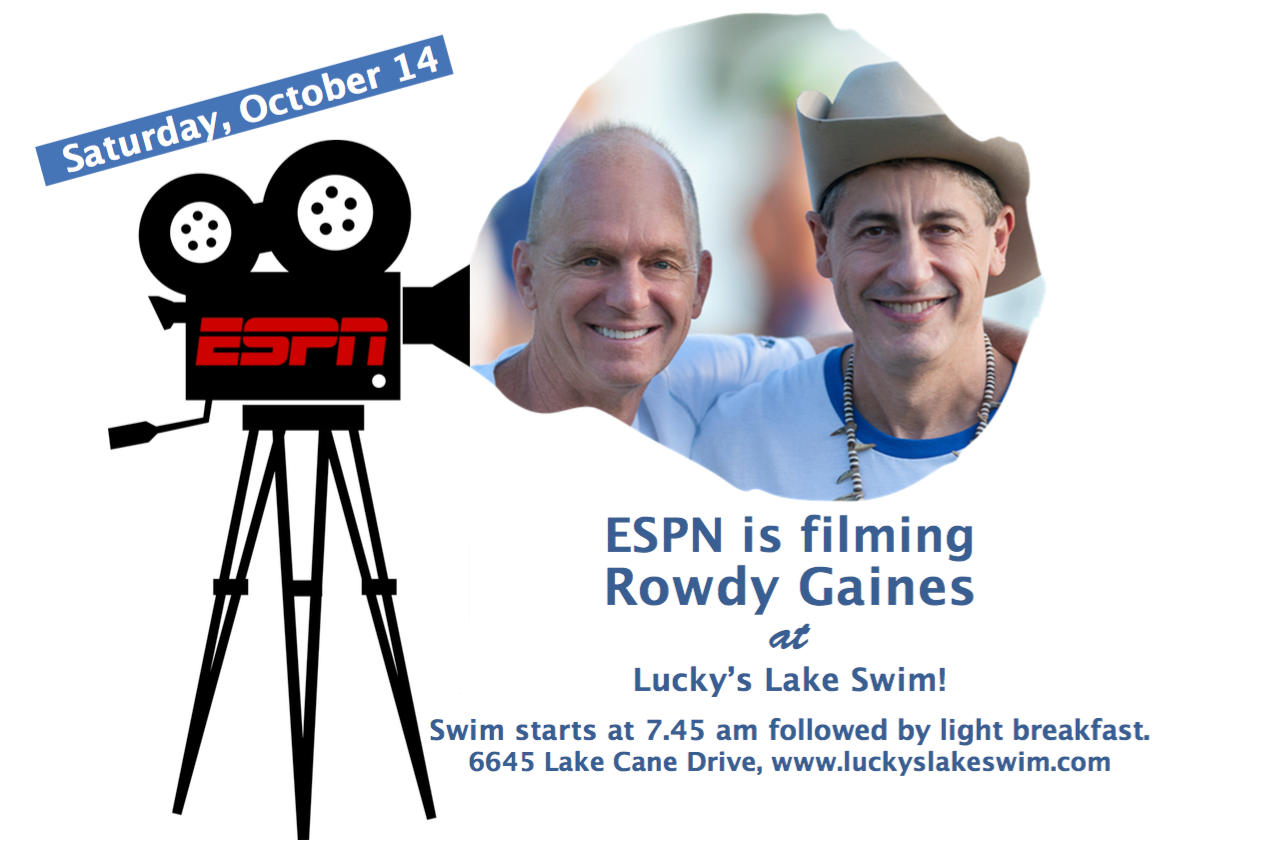 all Ivy Lucky's Lake Swim With Rowdy Gaines
Where were you in 1984? Rowdy Gaines was Los Angeles winning gold medals. Three of them!
Come meet Rowdy and swim with him at world-famous Lucky's Lake Swim 7:45am October 14th at 6645 Lake Cane Drive.
Fall in Florida is the perfect time of year to swim outdoors – ESPN is filming a biography on Rowdy Gaines that weekend. ESPN has done many hour-long biographies
on sports celebrities and now it is finally time for a swimmer. Not only is Rowdy a triple Olympic gold medalist he is an inductee into the International Swimming
Hall of Fame and Olympic Hall of Fame. Currently an NBC Olympic Sportscaster, he is a kind and generous member of the Orlando community. Very deservedly
so he is referred to as the "Ambassador of Swimming". We would like to have an excellent All-Ivy turnout to meet and support Rowdy! Marc Middleton with
Growing Bolder did a great video of Rowdy's first swim at Lucky's if you missed it you can see it by Clicking Here!

Our very own Jay Madigan is the Executive Director of the Lake Cane Restoration Society which keeps the lake clean and healthy.
He does this 1 K swim 3-4 times every week!
---
Lucky's Lake Swim
October 14th
7:45 am followed by a light breakfast.

6645 Lake Cane Dr.
Orlando, FL 32819


When:
7:45AM - 10:00AM Sat 14 Oct 2017, Eastern timezone

Where:
Lucky's Lake Swim
6645 Lake Cane Drive
Orlando, FL 32819 USA
[ Get Directions ]
RSVP Here...
Look Who's Coming:
Pam Fisher
HCCF
Gina Carr
The Healthy Happy Hour
Richard smith
Florida Center for Orthopedics
Dave Penn
Filmmaker and higher education dean
... a total of 4 guests.
Note: to opt out from this list please sign in, go to My Account and change your preferences under My RSVPs.