May 23, 7:30 - 9:00 am
The Citrus Club of Orlando


The Leadership Breakfast series is presented by the Harvard Club of Central Florida
"Rise and Lead: How New Ideas WIll Build a Brighter Future for Florida"




In this interactive presentation Chris King, Winter Park native, Harvard College Class of 2001, candidate for Governor, and Chief Executive Officer of Elevation Financial Group, will tell the story of how his unique background in business, philanthropy, law, and leadership compelled him to enter the current race to lead the State of Florida. He will discuss several innovative ideas he believes are critical for Florida's success as well as address issues most important to attendees.

Networking Opportunity - In addition to learning from brilliant leaders, our breakfast meetings are also an opportunity to let others know about your business (or job search) during the "Round Robin Introductions" period. Bring plenty of business cards!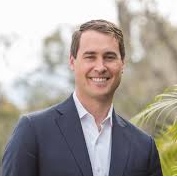 More on Chris...

Chris King is a third-generation Central Floridian. He earned his law degree from the University of Florida after graduating from Harvard University. He is the founder and CEO of Elevation Financial Group, which creates quality, affordable housing for seniors and families in Florida and across the Southeast United States. Chris leads a non-profit that provides college access and mentorship to low-income Florida students to pursue their college dreams. Chris and his wife Kristen live in Central Florida with their three young children.
---
7:30 - 8:00 Full Hot Buffet Breakfast / Networking - Bring Your Business Cards!
8:00 - 8:10 Round Robin Introductions (60 seconds, each attendee)
8:10 - 9:00 Presentation

Discounted parking is available in the Citrus Club parking off Jackson Street.


Dress: Business Attire

Cost:

EARLY BIRD - through May 17
Harvard Club of Central Florida Members: $30.00
Guests of Members: $30.00
Non-Members (includes All Ivy): $35.00

Beginning May 18
Harvard Club of Central Florida Members: $40.00
Guests of Members: $40.00
Non-Members (includes All Ivy): $45.00
---
The 2017 Harvard Club Leadership Breakfast series is sponsored** by:

Veritas Recruiting Group is a professional staffing, recruiting and executive search firm that is hired by companies across all industries throughout
Central
Florida to find, attract, evaluate and and help them hire the top corporate finance and accounting professionals. Positions we place range in title from CFO to Accounting Manager to Staff Accountant/Financial Analyst. Veritas Recruiting Group was founded in 2009 by David Sprinkle, who received his Bachelors in Economics from Harvard in 1996.
NOTE: We anticipate this meeting will attract more members than the room at The Citrus Club can accommodate. Get your tickets now, so that you don't miss out.

If you would like to recommend a speaker for the Harvard Club Leadership Breakfast Series or to be a sponsor, please send suggestions to the Leadership Breakfast chair Gina Carr at gina@ginacarr.com or 678-653-0115.

*Please note: the views of the candidate in no way represent those of the Harvard Club of Central Florida, Harvard University or Veritas Recruiting Group, nor is this event an implied endorsement of the candidate or his views. All financial proceeds for the Leadership Breakfast remain the property of the Harvard Club of Central Florida. Other candidates for Governor are invited to present to our group as we wish to present all perspectives.

**Harvard University does not endorse any sponsors, candidates, products, or services mentioned on this website.
Use the link below to purchase tickets. If you have any problem, use this link for backup. http://chrisking.eventbrite.com
Click here to buy tickets!!
When:
7:30AM - 9:00AM Tue 23 May 2017, Eastern timezone

Where:
The Citrus Club
255 South Orange Avenue
Orlando, FL 32801
[ Get Directions ]
Look Who's Coming:
Steven Strickland
Lowndes, Drosdick, Doster, Kantor & Reed
Larry Kahn
HCCF
Gina Carr
Guest of Gina Carr
Michael Sacerdote
Katherine Byrne
Robert Byrne
Jennifer Anderson
Kimberly Devitt
Corkcicle
Phil Anderson
ROC Seniors Housing Fund Manager, LLC
Charo Uceda
Melissa Rowker
Donald Christopher
Carolyn Webster
Bob Trinh
JSA Medical Group
Eduardo Dominguez
... a total of 17 guests.
Note: to opt out from this list please sign in, go to My Account and change your preferences under My RSVPs.