January 17, 7:30 - 9: 00 am
The Citrus Club of Orlando


Presented by the Harvard Club of Central Florida and the Harvard Business School Club SIG

Recalculating - Driving Performance Success in 2017
Would you like to navigate change powerfully?
Do you want to create off the charts momentum?
Are you ready to rock 2017?
Make this the year to take charge and bounce back when obstacles, challenges or detours get in the way of reaching your goals or achieving results. Whether relationships or revenue, projects or product launch, The GPS Girl® shows you how to create a path and plan that gets you swiftly and safely to your destination—however you define it.
Karen Jacobsen takes you on a journey from her small town childhood near Australia's Great Barrier Reef to becoming "The GPS Girl®" whose voice is in more than 400 million GPS devices and smart phones, to building a career and business in the Big Apple. Karen shares the many starts, stops, detours (and a few disasters) she encountered along her own road to success, proving that it is never too late to recalculate.
Find more focus, direction, confidence and control as you enjoy using your internal GPS on a daily basis to get what you want in 2017.
- The GPS Girl's 5 Directions for Recalculating when things do not go as planned
- How to be able to quickly bounce back and redirect your efforts more efficiently and effectively and
- You will never listen to your GPS say the word "Recalculating" the same way ever again.

Watch a video greeting from Karen here:
https://youtu.be/Gt3xjDYyskU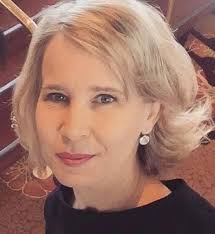 Karen Jacobsen is
The GPS Girl®,
giving directions as the speaking voice of "Australian Karen" in over 400 million GPS and smartphone devices around the world. A professional speaker, singer and voice-over artist, Karen travels the world
speaking and performing concert-
style keynotes to groups who want to be able to Recalculate and give their best in business and life. Karen has enjoyed wide media coverage, but she was told she had really made it when she was a clue in The New York Times crossword puzzle. Sharing the bill with Norah Jones, Neil
Sedaka and Christopher Cross, she has performed The Star Spangled Banner at many major sporting events including the New York Jets game at Giants Stadium. Karen Jacobsen is ta Past President of the National Speakers Association-New York City, currently serves on the NSA national board, and with a busy travel schedule and an eight year old son has plenty of opportunity to Recalculate on a daily basis.
Discounted parking is available in the Citrus Club parking off Jackson Street.
7:30 - 8:00 Full Hot Buffet Breakfast / Networking - Bring Your Business Cards!
8:00 - 9:00 Presentation
The 2017 Harvard Club Leadership Breakfast series is sponsored* by:

Veritas Recruiting Group is a professional staffing, recruiting and executive search firm that is hired by companies across all industries throughout
Central
Florida to find, attract, evaluate and and help them hire the top corporate finance and accounting professionals. Positions we place range in title from CFO to Accounting Manager to Staff Accountant/Financial Analyst. Veritas Recruiting Group was founded in 2009 by David Sprinkle, who received his Bachelors in Economics from Harvard in 1996.
NOTE: We anticipate this meeting will attract more members than the room at The Citrus Club can accommodate. Get your tickets now, so that you don't miss out.

If you would like to recommend a speaker for the Harvard Club Leadership Breakfast Series or to be a sponsor, please send suggestions to the Leadership Breakfast chair Gina Carr at gina@ginacarr.com or 678-653-0115.

*Harvard University does not endorse any sponsors, products, or services mentioned on this website.
Click here to buy tickets!!!
When:
7:30AM - 9:00AM Tue 17 Jan 2017, Eastern timezone

Where:
The Citrus Club
255 South Orange Avenue
Orlando, FL 32801
[ Get Directions ]
Look Who's Coming:
Ian McCook
Gina Carr
Gina Carr Enterprises
Terry Brock
Professional Speaker
Rachel Scheinberg
Valda Coryat
Eugene Rex
Katherine Byrne
Guest of Katherine Byrne
Paul Roldan
Allgen Financial Advisors, Inc
Camila Pachon Roldan
Astera Law Group
Karen Vergara
Allgen Tax & Consulting Inc
Sandra Geroux
Lori Spivey
Quincy Collins
Jerome Madigan
... a total of 15 guests.
Note: to opt out from this list please sign in, go to My Account and change your preferences under My RSVPs.