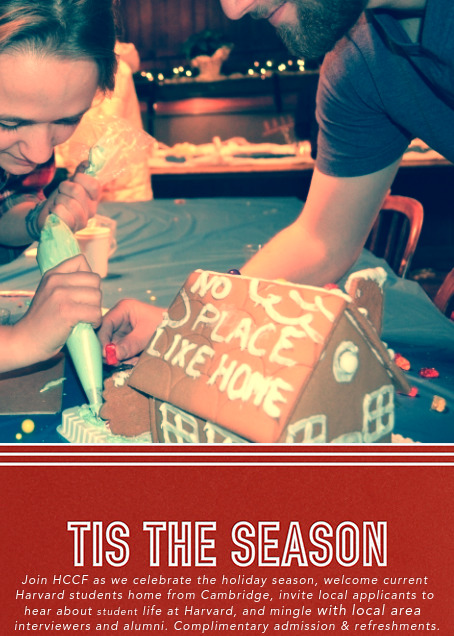 TIS THE SEASON!
Harvard Club Annual "Welcome Home for the Holidays" Party for current students, this year's applicants, HCCF interviewers, and all local alums! Wednesday, December 28th, 5:30 - 7 PM at Grace Hopper Hall in Baldwin Park (full address and parking details below).
The tradition continues! This event has been on the HCCF Calendar longer than any other. Join us as we celebrate the New Year with all of our "Harvard family". Every year we welcome current Harvard undergrads and grad students home from Cambridge, invite local applicants to hear about student life at Harvard, and mingle with our fellow interviewers and other area alumni/ae. All Harvard Club of Central Florida members - and those interested in joining - are welcome to attend. Admission is Free. Punch and Cookies will be served. Gingerbread Houses will be decorated and given away!
Date: Wednesday, December 28th
Time: 5:30 - 7 PM
Place: Grace Hopper Hall in Baldwin Park - 1913 Meeting Place, Orlando FL 32814. Free Parking available in business lots on Prospect Ave and Kenan Lane behind Grace Hopper Hall.