Harvard Club Leadership Breakfast
Harvard Club Leadership Breakfast
Sponsored by the Harvard Club of Central Florida
and the Harvard Business School SIG
**** We expect to sell out this event as seating is very limited. ****
****Early Bird Rates Expire Friday, June 12****

**** Problems registering? Click here. ****
We are excited to present our next Harvard Club Leadership Breakfast event, featuring the amazing Sam Horn. Sam, the Intrigue Expert, is a positioning/messaging/branding expert whose work has been featured in New York Times, Forbes, Fast Company, INC and on NPR and MSNBC. Sam will present:
Got Your Attention?
How to Create INTRIGUE and Connect with Anyone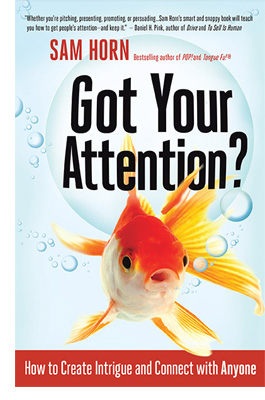 Did you know goldfish have longer attention spans than we do? Nine seconds to our eight. How then, in an age of impatience and INFObesity, are we supposed to get people interested in our programs, products and priorities? How are we supposed to motivate busy people to give us their time, mind and dime? How? With the original INTRIGUE techniques you'll learn in this interactive session. Bring a project so you can instantly apply these techniques to your priority. Discover for yourself why participants call Sam "brilliant" for her ability to "wordsmith" your message and give you an instant competitive edge that earns the interest of your decision-makers - whether that's an investor, potential client, corporate partner, meeting planner or audience.
Learning objectives include how to:
Motivate busy, distracted decision-makers to put their digital devices down - and focus solely on you


Create a crystal clear elevator pitch that open doors and close deals (from Sam's SXSW session)


Create a catchy phrase-that-pays that people repeat and retweet so your project goes viral


Replace INFObesity with relevant "dog on a tanker" examples that make your ideas come alive


Turn a no into a yes ... in 60 seconds or less


Create a one-of-a-kind "legacy message" and signature story that leverages your EEE - Experience, Expertise, Epiphanies
Details...
Date: Friday, June 19, 2015
Time: 7:30 am - 9 am
Location: The University Club of Orlando
150 E. Central Blvd.
Orlando, FL 32801
407-425-2514
Parking
Free parking is available in the lot adjacent to the University Club.
Registration
Harvard Club Members & Guests Early Bird $20 till June 12
After June 12 - $30
All Ivy Network Members & Guests Early Bird $25 till June 12
After June 12 - $35
Other Business Professionals Early Bird $25 till June 12
After June 12 - $35
Click here to buy tickets!!!

**** Problems registering? Click here. ****
7:30 - 8:00 Full Hot Buffet Breakfast / Networking
8:00 - 9:00 Presentation
NOTE: We anticipate this meeting will attract more members than the University Club can accommodate. If this happens, priority will be given to Harvard Club members before other reservations are accepted. If you have not yet joined the club, Join Now!
If you would like to recommend a speaker for the Harvard Club Leadership Breakfast Series, please send suggestions to the Leadership Breakfast chair Gina Carr at gina@ginacarr.com or 678-653-0115.
Sponsorship Opportunity:
A single event sponsor will be provided the opportunity to make brief remarks prior to the featured speaker's presentation. Also, this sponsor will be featured in future online marketing, emails, and on the club website. If you are interested, contact gina@ginacarr.com or 678-653-0115 for details.
Click here to buy tickets!!!

**** Problems registering? Click here. ****
As Terry Jones, founder of Travelocity and Kayak said, "If you can't get people's attention; you'll never get their business. Sam's INTRIGUE techniques show how to quickly win respect."
More on Sam....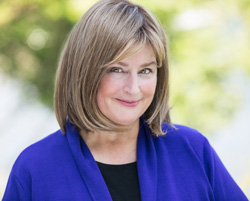 Sam has served as the Executive Director of the Maui Writers Conference and as the Pitch Coach for Springboard Enterprises (which has helped entrepreneurs receive $6.6 billion in funding.) Her books "POP!", "Tongue Fu"! and "Got Your Attention?" have been endorsed by Dan Pink, Marshall Goldsmith, Tony Robbins and Seth Godin, and presented to such speaking clients as KPMG, Cisco, NASA, Intel, Boeing, YPO and EO, and Capital One. She is renowned for her ability to help clients create one-of-a-kind TED talks, pitches, books, businesses and brands that scale their influence and impact.
Check out Sam Horn's TEDx NASA Talk:
https://www.youtube.com/watch?v=Xlg8zdSVjgg
Website: http://samhorn.com
What is a Leadership Breakfast?
The Leadership Breakfast is a one-of-a-kind opportunity for Harvard alums, All-Ivy colleagues, and their guests to meet face-to-face with the most sought after leaders in business and the community. You can count on the speaker's comments to be candid, insightful and not likely to be heard in public elsewhere. You can share your views with them during the pre-meeting buffet breakfast, question and answer period and post-meeting informal discussion.
Similar Harvard Club-sponsored leadership breakfast meetings exist around the globe. These events are great for networking, for learning, and for enhancing visibility of the Harvard brand within the community.
Click here to buy tickets!!!

**** Problems registering? Click here. ****